RISEN RM300/580
Applied for mixing the cement mortar or other similar materials suitable for being mixed slowly.
Mixing tank capacity: 300L
Agitator tank capacity: 580L
Mixing speed: 50r/min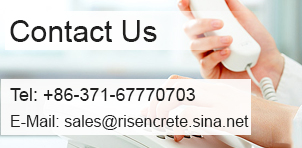 Description:
RISEN RM300/580 is a double-layer mortar mixer. The upper layer is a mixing tank and the lower layer is an agitator tank. It is a good partner of the mortar pump.
Application:
Mixing the cement mortar (cement, sand and water) or the similar slurry suitable for being mixed slowly.
Features:
● Compact structure, mixing tank designed to be the upper of the agitator tank, be convenient for discharging;
● Rubber seal for the discharging outlet;
● High productivity, agitator tank's capacity is about twice than the mixing tank's;
Technical Data
| | |
| --- | --- |
| Mixing tank capacity: | 300 L |
| Agitator tank capacity: | 580 L |
| Mixing speed: | 50 r/min |
| Agitating speed: | 33 r/min |
| Mixing Unit: | 4 kW |
| Agitating Unit: | 1.5 kW |
| Chassis: | kickstand |
| Dimensions: | 1585×995×1500 mm |
| Weight: | 400 kg |
Advantage
● Tank body manufactured by the thicker plate for more reliable work and longer use life;
● Special welding handling;
● IP55 100% new electrical motor;
● Electrical control box manufactured by thicker plate and standard Schneider electrical elements;
● Painted after sandblasting for a pretty appearance.
Related Products
YOU NEED MORE INFO ?
Do not hesitate to contact one of our representatives
*Leave your details,we will reply as soon as possible!
Online Message
If you have any suggestions or opinions about our products, please leave a message, and we will immediately answer your questions. Thanks for your support.
Contact Us
Address: Science&Technology Building ,No.43 TongBai, Zhengzhou, Henan Province, China
Tel: +86-371-67770703
Fax: +86-371-67770031
E-Mail:sales@risencrete.sina.net
CopyRight © RISEN MACHINERY CO., LTD. -All Right Reserverd PRIVACY POLICY Powered by MetInfo 公司营业执照信息公示