RISEN RPT30 is a screw pump, equipped with small air compressor. It is suitable for pumping or spraying the wet ready-mixed cement mortar, etc. This machine permits the easy and comfortable transport due to its small and handy dimensions and low weight.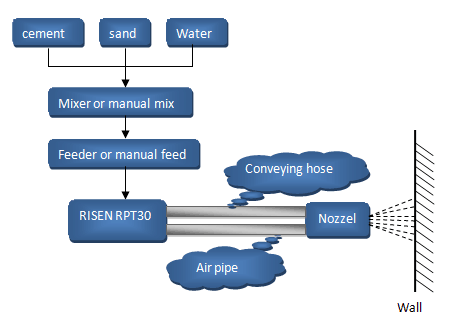 Requirement on the materials:
To have a perfect mortar spraying, the diameter of the sand shall not be too big. The max. sand size is 2mm. And, the cement/sand ratio shall be ≥ 1:3.
Application:
To spray all the pumpable wet ready-mixed slurries, mortars or materials, such as cement slurry, mortar, lime plaster, gypsum plaster, masonry mortar, insulation plaster, self-leveling floor screed, etc.
● Small and handy size and low weight, quickly and easily transport even in the most confined spaces;
● The rotor/stator pump ensures the materials is pumped and sprayed out continuously and evenly;
● The machine always works with efficiency and silence;
● The machine consists of portable units, permitting easy to operate and take maintenance and easy to use in any circumstance.
● Equipped with excellent quality small-size air compressor;
● IP55 100% new electrical motor;
● Electrical control box manufactured by thicker plate and standard Schneider electrical elements;
● Standard seal parts to ensure the excellent seal quality;
● Wear resistance rotor and stator can be replaced in the flash as required.
● Painted after sandblasting for a pretty appearance;