RISEN RGH250 grout mixing station is a whole unit of grouting and mixing. It consists of a mixing tank, an agitator tank and a low-pressure squeeze-type hose pump as the grout pump. The RGH250 is applied for making the grout slurry and then grouting the slurry under low pressure. This equipment has the advantages of simple structure, reliabale work performance, high efficient slurry-making, less consumable parts, etc.
The recommended slurry is the cement slurry or the similar.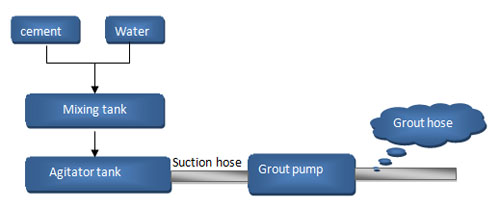 Application:
Mixing the cement (or similar material) and water under high efficiency and then high pressure grout the cement slurry or similar slurry to do the sealing, strengthening and stabilizing of rock and soil in Tunneling, Mining, Hydro-power Project, Slope Stabilizing and underground project, etc.
● A whole unit with mixing and grouting;
● Valve-less squeeze-type hose pump for the slurry pumping or grouting under low-pressure;
● Constant volume pumping in non backflow for the steady flow;
● Convenient clean. The pipeline can be cleaned without disassembly;
● High mixing efficiency, motor directly driving impeller to get the high-speed liquid flow;
● High reliability, vertical-mount motor, easy to seal, low failure rate and good seal;
● Easy to maintain, less consumable parts andlow running cost.
● Low accuracy request on squeeze tube;
● Squeezed by the squeeze rollers, rolling friction to have the low request on the lubrication;
● Recovery of the squeeze tube against the recovery rollers;
● Squeeze interval adjusted by the eccentric roller;
● Natural rubber hose with 4 layer of thread reinforcement as the squeeze hose.
● Tank body manufactured by the thicker plate for more reliable work and longer use life;
● The whole stamping structure for the tank bottom;
● Special weld handling;
● IP55 100% new electrical motor;
● Electrical control box manufactured by thicker plate and standard Schneider electrical elements;
● Standard seal parts to ensure the excellent seal quality;
● Painted after sandblasting for a pretty appearance.