RISEN RM300/750
A kind of grout mixer for cement slurry or other similar materials suitable for being mixed quickly.
Mixing tank capacity: 300L
Agitator tank capacity: 750L
Mixing speed: 550r/min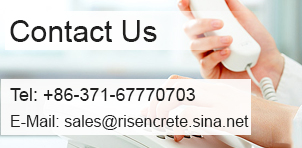 Description:
RISEN RM300/750 is a double-layer grout mixer. The upper layer is a mixing tank and the lower layer is an agitator tank. Combine with grout pump, it can grout with pressure in mining, tunnel, culvert, subway, hydropower engineering, underground excavation engineering etc.
Application:
Mixing the cement grout or the similar slurry suitable for being mixed quickly.
Features:
● Compact structure, mixing tank designed to be the upper of the agitator tank, be convenient for discharging;
● Rubber seal for the discharging outlet;
● High productivity, agitator tank's capacity is twice more than the mixing tank's.
Technical Data
| | |
| --- | --- |
| Mixing tank capacity: | 300 L |
| Agitator tank capacity: | 750 L |
| Mixing speed: | 550 r/min |
| Agitating speed: | 33 r/min |
| Mixing Unit: | 4 kW |
| Agitating Unit: | 1.5 kW |
| Chassis: | kickstand |
| Dimensions: | 1698×1118×1600 mm |
| Weight: | 500 kg |
Advantage
● Tank body manufactured by the thicker plate for more reliable work and longer use life;
● Special welding handling;
● IP55 100% new electrical motor;
● Electrical control box manufactured by thicker plate and standard Schneider electrical elements;
● Painted after sandblasting for a pretty appearance.
Related Products
YOU NEED MORE INFO ?
Do not hesitate to contact one of our representatives
*Leave your details,we will reply as soon as possible!
Online Message
If you have any suggestions or opinions about our products, please leave a message, and we will immediately answer your questions. Thanks for your support.
Contact Us
Address: Science&Technology Building ,No.43 TongBai, Zhengzhou, Henan Province, China
Tel: +86-371-67770703
Fax: +86-371-67770031
E-Mail:sales@risencrete.sina.net
CopyRight © RISEN MACHINERY CO., LTD. -All Right Reserverd PRIVACY POLICY Powered by MetInfo 公司营业执照信息公示