RISEN PZ5M is a special middle size rotary shotcrete machine. Its output can be adjusted from 1.1~5.5cubic meter/hour, applied for spraying the dry or damp concrete mixture. And, it has been designed especially for steel fibre spraying.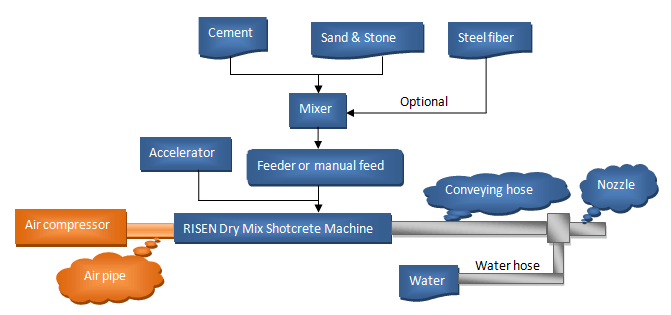 Application:
● Shotcreting for tunnels, hydro-power engineering, mines, underground engineering, civil engineering and slope stabilization, etc.
● Artificial soil seeding for no soil surface, such as rock, sand, and for no fertility soil surface.
● Refractory spraying and repair for industrial kilns or kilns' inner liner.
● Variable output.
● Non-adhesion going-through rotor with new material chamber, completely eliminate bonding and blocking during operation so as to reduce
clearance and maintenance period.
● Thin follow conveying method with vortex flow, so the spraying flow is even, continuous and steady, to improve the shotcrete quality.
● Four-point clamping device make it easy to adjust the press between sealing plate and rotor disk so as to no air and dust leak and prolong
consumption parts life.
● Particularly used for dry, damp mix and steel (polymer) fibre reinforced shotcrete.
● Complies with the essential health and safety requirements of the Directive 2006/42/EC.
● High-accuracy Gearbox, high clean degree inside;
● High wear resistance and longer use life consumable parts;
| | | | | | |
| --- | --- | --- | --- | --- | --- |
| | | | | | |
| Sealing Plate | Rotor Disk | Rubber Chamber | Cone Casing Pipe | Rubber Elbow | Nozzle |
● Military standard solid wheels for different construction site;
● IP55 100% new electrical motor, standard Schneider electrical elements and electrical control box strictly as the CE safety standard;
● National standard bearing, valve and screw etc.;
● All the casting units manufactured as our special design to ensure the enough strength and some key parts are the welded parts not
the casting;
● The sheet metal parts made of the thicker steel plate to have a stronger quality, such as the hopper and electrical control box;
● Serious handle for details, such as, protector for pressure gauge, special part for dust escaping down to the ground;
● Painted after sandblasting for a pretty appearance;