RISEN has been engaged in the design and production of RH series squeeze hose pump since 2004. Today Risen hose pumps are the very mature products with different kinds of standard models and many special models designed by our engineers as the customer's request.
The RH76 is one of models of our RISEN RH series hose pumps. The hose ID is 76mm (3 inch). We have 11 standard modles of RH76 for your choice at present and we can design the special RH76 according to your request on output, work pressure, connecting type etc.
Application:
●
To work as a benonite pump or foam,slurry pump in Tunnel Boring machine.
●
Construction – pumping the cement slurry, mortar or light-weight concrete or foam concrete, etc. It can be equipped with grout mixer or only agitator tank to be a pump group.
●
Chemical – corrosive acids,and bases.Textiles – fibres,dyes and additives.
●
Pint and pigments – dispersion mill feed, pigment and latex transfer.
●
Water and wastewater treatment – lime, kalic,sodium hypochlorite,ferric chloride and sludges.
●
Printing and packaging – varnishes,inks, coatings and adhesives.
●
Mining and mineral separation – tailing
●
Slurries,sludges and reagents.
●
Ceramics and glass – fine china.
● Strong Self – priming;
● Dry running ability;
● Be reversible;
● No metal rub within the hose;
● Pumped material only touches the hose;
● Easy maintenance, short down time;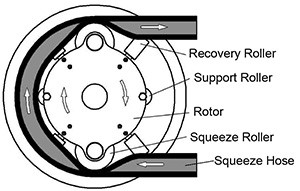 The work principle is:
With the running of rotor, the squeeze roller acts the planetary motion along the squeeze hose, the materials inside squeeze hose is outputted along squeeze hose because of the squeeze and push of roller. Together with the materials out, vacuum status will be formed in the squeeze hose, which makes the materials near from suction end of squeeze hose be sucked by negative-pressure. Along with the cyclic squeezing of roller, the slurry is pumped continually.
● Low accuracy request on squeeze tube;
● Squeezed by the squeeze rollers, rolling friction to have the low request on the lubrication;
● Recovery of the squeeze tube against the recovery rollers;
● Squeeze interval adjusted by the eccentric roller;
● Natural rubber hose with 4 layer of thread reinforcement as the squeeze hose.